Sodom is a creative collective of creatures of the night. Most of the team members are volunteers dedicated to creating a mixed event that celebrates imaginative personal expression and those who admire it. To join the Sodom team, email us at contact@sodom.ca. Video skills, photography talent, prop building or simply a fun, positive just-want-to-help-out attitude are always welcome. An appreciation of glitter is also helpful.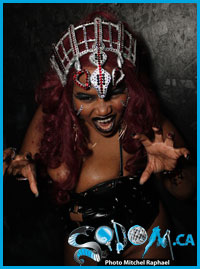 Slimthick Monroe - The Queen of Sodom (2013)
Toronto's hottest diva Slimthick Monroe made her debut at Sodom in June 2012 at Sodom is Burning where she dazzled the crowd who literally bowed before her as she hit the stage. She then played a sexy Studio 54 diva at Sodom Warhol where she mowed down Andy Warhol with a machine gun. Slimthick Monroe has been a member House of Monroe since 2011. She has competed many times in Toronto's ballroom scene as well as at the Latex Ball in New York. Categories she often enters include body and best dressed. Slimthick was born in Trinidad but grew up in New York City. She moved to Toronto at age 15. She is involved in community development though the Toronto Kiki Ballroom Alliance, a youth-led organization that builds self-confidence by using ballroom arts including voguing and runway. She is also part of the Woman, Butch and Trans Ballroom Coalition, an organization that helps marginalized people in the ballroom scene.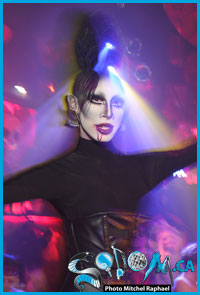 Nikki Chin – The Queen of Sodom (2012)
Nikki Chin, the Vampire Queen, first came out of her coffin at Sodom's second annual Vampire Love Ball. She defeated evil werewolves. She was then "killed" months later by a priest (played by Tyler Gledhill), who was turned into a vampire and took off with Chin's lovers. In February of 2012, the previous queens of Sodom, Mahogany Browne and Ivory Towers, resurrected Nikki Chin with magic, blood and sweat (Ivory forgot her deodorant). She was then crowned the Queen of Sodom for 2012 at third annual Vampire Love Ball. As she travels across continents, many women who once had luscious long hair have mysteriously woken up with short sassy bobs while Chin was in their country. Vatican miracle verifiers were called in on several occasions. Coincidently, Chin has one of the world's largest collections of ponytails including the locks of Britney Spears after the singer went through a slightly rebellious period.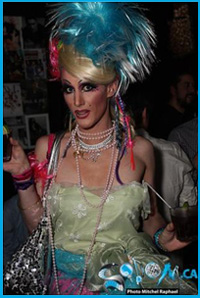 Judy Virago – The Grand Duchess of Sodom
Grand Duchess Judy Virago hails from the magical shores of Middle Earth, New Zealand. There she won a major title in her first year in training heels, and starred in the sell out show "Queen of the Whole Universe" for five years running. After several years of award-winning cabaret, theatre, indie film and music video performances, Grand Duchess Virago (GDV) packed up and took off to the bright lights of Honest Ed's – Toronto. Since her arrival to the frozen Great White North the Grand Duchess has set her sights on claiming the hearts and souls of Canadians to trade with the Dark Lord for more tacky jewellery, cheap wigs and vintage frocks. The Grand Duchess is also the 2011 Tranny Dodgeball champion and was baked (literally!) by Willy Wonka at Candyland Sodom. She channeled Canadian literary icon Margaret Atwood to do battle with Toronto Mayor Rob Ford at Sodom Trailer Park. Grand Duchess Virago has made her mark on the Toronto dazzling crowds with eclectic and innovative fashion sense, creative style, excessive use of liquid eyeliner and glitter. A proud vegan ecofeminist, GDV takes her inspiration from women everywhere, especially those who have faded from glory... and painted it back on. More is more, darlings.
Count Roger Carrier
Count Carrier arrived to hot 'n' sweaty Sodom from the frozen Great White North on his golden jewel-encrusted toboggan. Armed with pliers, a hot knife, paint and glitter, he's become one of the Sodom master builders. Nothing is too big or fine detailed for the Count. From DJ Sumation's castle at Thrones and Dragons (the official hiding spot for the royal jewels), to creating the crown adorned by the third Queen of Sodom, Nikki Chin, at Vampire Love Ball 3. At Sodom: Jock, Count Carrier channeled his inner prick to get some kick-ass attitude out of the cheerleaders, but in the end it resulted in locker smashing ass-kicking with Paul Bellini (Kids in the Hall). The Count can often be found tearing up the dance floor with fellow Sodomites or running around complimenting people on their fierce outfits and weaves. Count Carrier is currently engaged to Eva Destruction, who is known for doing a mean Britney Spears.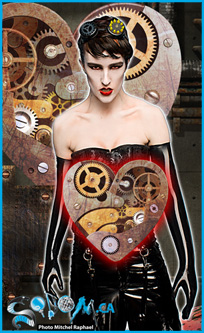 Lauren Pettigrew – The First Lady of Sodom
Lady Pettigrew was the first lady to join the Sodom team and helped up the butch factor immensely. She is known for her gender ambiguity, pastry skills, unique voguing techniques and ability to paint the town (and other things) red with high-end lipstick. At Pirates of Sodom, she was awarded the Glad Day Bookshop Award for Outstanding Creative Achievement. She has also been spotted at Sodom as Cookie Monster and at Sodom: Thrones & Dragons she played Harry Potter where she attempted to take on the White Witch (Ivory Towers in her step-down show). Lady Pettigrew is also considered one of Canada's top glitter connoisseurs.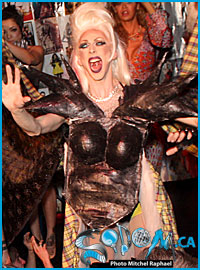 Ivory Towers – The Queen of Sodom (2011)
Some consider her the virgin queen, but they don' t know how she can role-play like no other royal. Ivory' s ascent to the Sodom throne was filled with mystery and intrigued. How could one so young reign from such an ancient throne? Rumours were spread that she was not in fact royal blood but was from the trailer park located outside the city of Sodom. She put an end to those lies by having the tongues removed of those who spread them and whose rimming skills left something to be desired. Several of her lovers were mysteriously tossed from the towers of Sodom (hence her name Ivory Towers). When she is not performing at Sodom, Ivory enjoys lawn bowling, witchcraft and full-body Spandex outfits.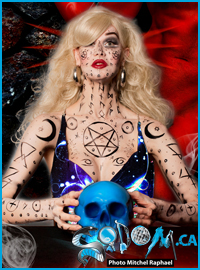 Nina Arsenault – The High Priestess of Sodom
Nina Arsenault is often surrounded by the most beautiful eunuchs of the city. As the high priestess of Sodom she crowns all Sodom royals. When she is not channeling the gods or listening to the Royal Castrati Choir of Sodom, she is busy turning it out as a radical queer artist. Her body of work includes the critically acclaimed plays The Silicone Diaries and I Was B* rbie. NinaArsenault.com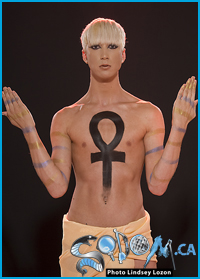 Myles Sexton – The Prince Sodom (Host)
Prince Sexton is often seen riding his solid white horse Peroxide around the city. He is one the chief architects of Sodom, building legendary props like giant Barbie boxes or transforming Goodhandy' s into a giant cave. His royal wardrobe consists of outfits made out platinum chicken wire and jeweled air masks. Prince Sexton also is one of the official stylists and makeup artist of Sodom. His work can be seen on many of the Sodom posters.
DJ Sumation – Sodom resident DJ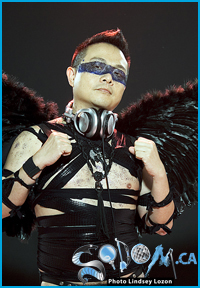 DJ Sumation (Sum Wong) has been DJing since 2001. He has touched many with his uplifting happy vibes and energy. His wide- ranging musical knowledge has helped shape and develop his own unique DJ style and sound. His current residencies, in addition to Sodom, include College Night at the Barn. As well, you' ll find DJ Sumation spinning at events like the WinterCity Festival Skating party at Nathan Phillips Square, SNAP, Walk for Life, FashionCares, ACT events and numerous charity bashes in the city. He has his own DJ services and party events company, White Tiger West. His venues as resident and guest DJ have also included El Mocambo, Circa, fly Nightclub, 5ive Nightclub, Buddies in Bad Times, Voglie, Fuzion, Alibi, Vice, Byzantium, AsianXpress parties, Joseph Patrick' s Beachball and several PRISM Pride parties; he has worked the Pride Toronto Polar Ice Stage many times. When he spun at a swingers' club, he would play 50 Cent' s " Hot in Here" and everyone on the dance floor would take off all their clothes. His favourite drink is vodka with anything. One of his top songs is Daft Punk' s " Around the World," and his favourite dance artist is Janet Jackson because she has more dance- move variety than most artists, including her late brother Michael. djsumation.ca



Sir Ryan Russell - Mr. Sodom Leather 2011
One of Toronto' s top performance artists, Sir Russell represented Sodom in the Mr. Leatherman Toronto 2011 contest where he was bestowed the title of Mr. Leather Fellowship. No one looks more strapping in a jock than Sir Russell.
ryanrussellxxx.com
Mahogany Browne – The first Queen of Sodom (2010)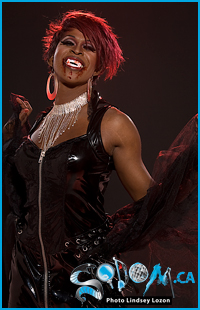 Mahogany descends from a royal line: her great-great-great- great-great-great-grandmother was Maho, the love child of King Solomon and the Queen of Sheba. Maho opened a small tavern called The Last Supper where the original biblical city of Sodom once flourished before it was destroyed by God. She earned the nickname " Maho" from a Persian general who told his troops, " That' s ' my hoe.' " He later died when his wine was poisoned and all his possessions went to Maho, who then got herself some new Egyptian weaves and Israelite dresses. Her tavern shows soon became legendary. Kings and queens would arrive and mix with goat herders and temple hookers in what could only be described as a Studio 54 BC. Mahogany Brown continued the tradition of Maho, bringing positive energy to one of Toronto' s most eclectic parties, Sodom at Goodhandy' s, where she reigned as Queen for 2010. Mahogany attends Church regularly and holds the record for longest confession, beating Friar Francis Tucked in 1203 AD.
Mitchel Raphael – creative director/producer
From fetish parties to federal parties, 24-hour raves to 24 Sussex Drive, drag queens to the Queen's representative, Mitchel Raphael is a journalist/photographer who has acted as cultural ambassador between readers and subjects when it comes to politics, pop and alternative cultures. Mitchel is currently a columnist with Maclean's magazine where he writes the political scene column Capital Diary.
Before Maclean's, Mitchel was editor-in-chief of the Toronto-based gay men's magazine fab for four years. He brought on board such power writers as Nina Arsenault, Todd Klinck, Paul Bellini and Rolyn Chambers. He produced the enormously successful 10- and 11-year anniversary parties with the now infamous 10-drag-shows-in-10-minutes formula. He is also known for his home rooftop patio parties with their mixed crowd of drag queens, lawyers, artists, politicians, activists, academics and dominatrices (some fall into more than one category).
Prior to fab, he was at the National Post as an arts/life feature writer from its inception in October 1998 until September 2001, as he covered such things as drug cultures, electronic and mainstream music, pop culture, hip hop, politics and shemales.
Mitchel holds an MA in Interdisciplinary Studies from York University, where he completed his thesis, entitled "Drag Queens, Sissy Boys and a Virus Called HIV." His BA was in Western Literature and Civilization from the University of Western Ontario. He divides his time between Toronto and Ottawa and often heads over to Hull, Quebec, to eat at Chez Fatima.